Frequently Asked Questions
We love it when we hear from our pet loving customers. If you have other questions please call us on 010 007 1717 or mail us at info@techthrive.co.za.
Device Size and Weight?
The device is 52X38X16mm and weighs 36 grams. The small size is great for dogs and even small cats. The device simply rotates to under their neck where it sits comfortably. My cats are just over 3kg's and they're very happy with their trackers :).
Which sim card must I use
You will need a nano sim card (which is the smallest of the 3 standard sizes) with airtime (not a data subscription). Airtime doesn't expire so by enabling out-of-bundle data you will spend the least amount on keeping your tracker connected to the internet. The device uses very little data – it regularly uploads it's battery information (and other device parameters) and a location at your desired location frequency. On 1m intervals you could spend up to R10 per month. On 1h or a custom setting you could spend as little as R3 per month. Your choice of provider is up to you – it is best to pick one with the best coverage in your area.
How does it work
The GPS tracker sends updates to an app on your mobile phone. Once paired with the app you can view the current location or historical points, change settings and use advanced features like SOS or Geo-Fencing. In addition the GPS tracker can do sound monitoring or ring to help you find your lost pet. You can also request a GPS location from the tracker. In that way no matter where your pet runs off to you will always be able to get a location to start looking for them.
The app has three modes for tracking intervals 1 minute, 10 minutes or 1 hour and an advanced setting to allow for a custom interval. These modes can be changed through the app at any time. We recommend the longest setting to save battery power. If you want to track your pet then request a location or change the settings to a more frequent tracking interval.
Sound is one of the best forms of short range tracking. You can enable a "ring" on the device which will make some noise (much like cell phone ringing and it only lasts for 60 seconds). This is especially useful when your pet is out of sight but nearby.
Tell me more about the battery and power settings
I have 3 small cats so I know what it's like constantly charging a device with a small battery. Our tracker has a 1000mah battery. Exact battery life is relative to usage and conditions EG. A pet that is constantly under a tree will use more GPS power (as it takes longer to get a complete GPS fix). Although as a general guideline you can expect 2-3 days at a 1m interval, 3-5 days on a 10m interval and up to 7 days on a 1h interval. We also support an advanced mode which allows you to set the exact number of seconds. On maximum in the advanced mode you will get closer to 10 days. The device is also equipped with a motion sensor; a pet that is sleeping won't be tracked as the GPS will go into hibernation mode until it detects movement. While in hibernation it's still possible to request a location using the app which works very well when you need to start looking for your pet.

What if it gets wet
Yes it is waterproof. It's officially rated as IP67 which means it's tested at a depth of 1 meter for 30 minutes. Rain, splash or the occasional swim will be ok however we would typically suggest removing it temporarily if you know your pet is going to get really wet. The charger cable uses a magnetic contact which is doesn't require any opening of rubber seals to charge. Although such is the nature of water/salt water is that over years the seals do wear out – especially if at some point in the future you need to open the casing to change the sim card.

Do I need a special collar or can I use my own
The GPS Trackers fits into a silicone sleeve which is easy to remove. We use a magnetic contact for charging so it's also very easy to charge while on a collar (but not on the pet 🙂 ). The sleeve allows for easy attachment onto any standard cat or dog collar.
Give me the technical details about GPS for indoors
GPS as a whole doesn't work well indoors. We account for this in two ways.
1. We search for a nearby WiFi hotspot (we don't connect to it – we just search for it – when if sees the home WiFi then we know the pet is home). The device learns the location of the WiFi on its own.
2. Cellular triangulation. Much like in the movies we use the cell towers to estimate the device location. However unlike the movies this is wildly inaccurate (500m to 1km) so it's really good to tell you a very broad area your pet is in. That said, even a failed GPS signal is good information – in my case I then know my cats are under my house where they don't get GPS or WiFi.
Technical Specs
Waterproof IP67 – GPS + WIFI + LBS multi mode precise positioning – static dormancy to save electricity – real-time positioning – intelligent monitoring – remote record function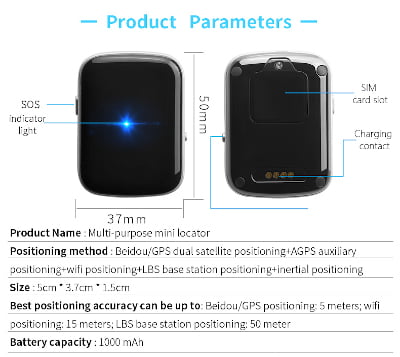 Device size: 52X38X16mm
Weight: 36g
colour: Optional
button: one button(power/SOS button)
screen: no
GPS antenna: High sensitive ceramics active antenna
GSM antenna: FPC antenna
battery: 1000mAh
SIM card slot: 1
G-sensor support: yes
I/O port: Magnetic suction charging
CPU: MTK MT2503A
GPS chip: MTK2503
GPRS: Class12
GPS signal: L1,1575.42MHz C/A
GPS channel number: 22 channels
GPS chip receive sensitivity: Tracking sensitivity:-165dBm,capture sensitivity:-148dBm
GPS location accuracy: 5~15M
LBS location accuracy: 100-1000M
Minimum standby: less than 0.5 mA
Average standby current: less than 2.5 mA
Average working current: around 55mA
Working temperature: -20~70?
Working humidity: 5% to 95% non-congealable
GPS antenna: Built-in high sensitivity FPC antenna
GSM antenna: Built-in four frequency method of antenna
G-sensor: yes
MIC: yes
supported operating systems: Support android 2.3 and above system, IOS5.0 and above.
call function: double talk/remote monitoring
Language support: English with multi-languages
GSM+GPRS+GPS: GPS+LBS+WIFI Multi-modal positioning
support AGPS: Cold start 26 seconds positioning
call function: SOS call, voice monitor, whitelist for don't disturb
power management: Ultra-low power consumption of power
One key emergency: SOS one key emergency function, auto-dialing
Record function: choose the record function on the APP, and then the device can record, after record will send back to APP directly.
Smart Geo-fence: Outside the geo-fence can trigger an alarm
wireless upgrading: Software upgrade, remote debugging, maintenance, remote setting of parameters
historical route: Can check history for three months